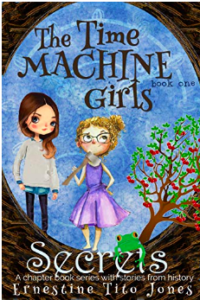 Don't go in the attic…
Eight-year-old Hazel and her little sister, Bess, have more than 100 rules to follow while visiting their grandparents' farmhouse for the summer. But the biggest one is not to go into the attic. So, of course, that's also the first one Hazel's 6-year-old sister decides to break.
But the girls never expected to uncover a family secret that involves a hidden time machine and their grandparents. They also never expected they'd be traveling through time, meeting historical figures, dodging danger, and learning all about the very events that helped shape history.
In the first book, the girls travel to 1738 to meet a young George Washington.
---
Is Grandpa a history thief? When Hazel and her little sister, Bess, start digging deeper into their family's secret, they realize it involves more than just a hidden time machine and their grandparents. There's a trunk full of items that look like they've popped straight out of a history book.
In the process of returning the items to their rightful spots in history, things get crazy. Their grandfather seems to know they've been using his time machine, and he's determined to stop them.
In this second book, the girls travel to 1879 to meet Thomas Edison.
---
Finding Courage…
The day Hazel and Bess finally get a chance to start returning items to their spots in history, they run into a huge setback: their mother wants them to play with the kid next door. He's not only mean, he steals Bess's frog. Is Bess so upset she'll use the time machine by herself?
In this third book, the girls travel to 1849 to meet Harriet Tubman on the Underground Railroad.
---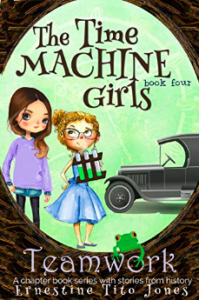 A warning…
Hazel and Bess have begun working with their grandparents to return stolen items to their spots in history. But never in a million years did they guess he would hand them the keys to the trunk and tell them they could pick whatever item they wanted. Some of the items come with very important warnings, though. And danger. So, naturally, those are the ones Bess wants to take.
In this fourth book, the girls travel to 1914 to meet Marie Curie during World War I.
---
Adding text
Hazel and Bess are all set to return more items to their spots in history when they run into a problem, and it's a big one: their mother wants to clean out the attic, and the time machine is hidden there.
Will Mom find the time machine…
How will they stop her rom finding the time machine, and why do they need to hide it from her in the first place? Hazel is determined to figure everything out, including a way to keep the time machine for good.
It's a big goal, and Hazel has no idea how to achieve it. Good thing the girls travel to 1932 to meet Amelia Earhart and learn how she achieved her goal of flying solo across the Atlantic.